Yvonne Oudshoorn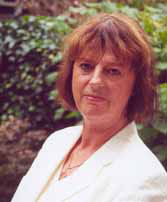 Yvonne Oudshoorn is the director of China Info and the author of 'Leer mij ze kennen, de Chinezen'. The book, published in 2000, looks at how Westerners can deal with Chinese people in order to create a successful working relationship.
Yvonne Oudshoorn is a career advisor by training and an expert in Chinese culture and behavior. She worked for years at W. Verschoor en Drs. J.C. Oudshoorn, a psychology practice based in The Hague, the Netherlands. It was there she learned the model she now uses that enables impressions to be translated into a workable personality profile. Oudshoorn has traveled the world for decades observing cultures in general and individual behavior in particular.
In 1972 she traveled to South East Asia for the first time, where she had her first peek at a then still isolated Mainland China from across the border in Hong Kong. Oudshoorn was fascinated by the character script and subsequently studied Sinology for several years. She began visiting Mainland China in the early 1980's. During her first visits, she was struck by the unease she experienced when confronted with a country of contradictions, not only in the people and culture, but in the scenery itself.
She talked to many Westerners working in China who told her time and again how difficult they found life within Chinese culture. They had considerable problems in simply understanding what made Chinese people tick, why they thought, acted and felt the way they did. Oudshoorn had no problem empathizing from her own experience. However, instead of accepting the rift, Oudshoorn identified the seemingly instinctive human reaction to condemn any behavior we cannot easily place into a familiar context as the root of the problem. Many of the misunderstandings and feelings of frustration between Westerners and Chinese, now as in the past, hinge on the mutually reinforcing concepts of ignorance and prejudice. It was that experience that sparked Oudshoorn¹s desire to bridge the gap that makes it so difficult for Westerners to understand Chinese behavior.
Since then she has traveled to China numerous times and interviewed hundreds of local people and Western managers working in Mainland China. Additionally, she interviewed Chinese people working and studying in Europe to gain their perspectives on the Western-Chinese dynamic. Her aim was to determine the utility of the behavioral model she used at the practice not only for Westerners, but also to understand the Chinese.
Oudshoorn still travels to China regularly, visits Western companies working there and interviews Western managers and their Chinese employees. She is convinced that the relationship between Western managers and their Chinese employees is the key to any successful foreign enterprise in China.
China Info organizes 'China Days' for Westerners and 'Holland Days' for the Chinese.